Google Star Ratings Have Changed: Should You Care?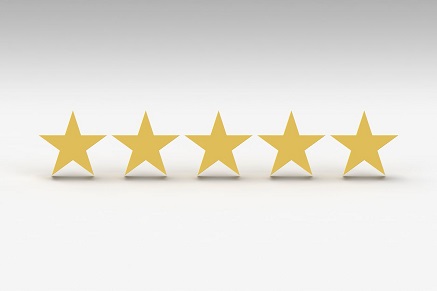 Google has offered consumers the opportunity to review and rate businesses for quite a few years. There's a good chance you've check out the ratings for one or more restaurants, retail stores, and other businesses before you decided to give them a try. In a world where researching first and purchasing later is common, those ratings do matter.
What you may not know is that Google has changed the way those star ratings are determined. Depending on what type of business you own and how many reviews you have, those changes could make a difference in how consumers perceive the quality of your company. Here's what you need to know about the changes and why they matter.
What's Changed
Until recently, Google used the Bayesian Average to come up with the overall rating for a business. What you may not realize is that this type of average is weighted in favor of five-star ratings. It also factors in the data for other businesses competing in the same industry.
The new approach is the simple arithmetic averaging process that everyone learned as youngsters. The star rating is now an average of the reviews logged by consumers, with lower ratings carrying the same weight as higher ones.
Another thing that is now different is how many reviews must be posted before star ratings are displayed. In the past, a business had to accumulate five reviews and/or ratings first. Now two will suffice.
Why These Changes Matter
Depending on how many reviews you have online and the number of competitors in your particular area, these changes could be good or bad. If your previous average was bolstered by the fact there was not a lot of competition and you had enough five-star ratings to play down the lower ratings, you may not like these changes. That's because you could see your business slipping from a solid 4 to a not quite as wonderful 3.
The nature of the reviews could change things too. With everything on display now, customers who didn't see that negative review of your new restaurant because there was not yet five reviews online will now be able to read it from start to finish. Unless you have some glowing reviews and ratings to offset that early bad one, the online reputation of your operation could suffer.
Taking Charge of the Situation
Read all the reviews, even the negative ones. Do you see a recurring pattern? Those reviews tell you what's working and what needs to change. If there are quite a few comments about employee attitudes, it's time for some training.
Encourage customers to leave reviews. Supply them with a link and make it easy for them to tell others what a nice time they had. Their comments and ratings will help offset the less than glowing ratings already on display.
Don't forget to respond to the negative reviews. Look past the bitter words and address the underlying issue. If it was related to the conduct of an employee, apologize and provide some detail of what action will be taken. Invite the person to come again and give you another chance. If all goes well, they may go back and edit the previous review.
Don't assume the change in how the star rating is determined will have no effect on your company. Adjust to the new order of things and do what must be done to protect your good name. In the long run, you can use this new approach to great advantage.